Forgive me, I've had this song stuck in my head all day: I Was Country When Country Wasn't Cool. Remember it? Barbara Mandrell made it a big hit back in the early 1980's (1981, to be exact).
Okay, now that I've totally dated myself, I heard a story on NPR recently that reminded me of the song — and, more importantly, a great opportunity for banks and credit unions to market themselves to their account holders.
Namely, paper.
It seems paper is cool again. How cool? So cool that even Millennials are into it. According to a survey by Vericast, nearly 90 percent of Millennials use paper coupons they receive in the mail.
In fact, response rates overall have increased 60 percent from a decade ago. No wonder marketers spent nearly $45 billion on direct mail last year alone.
CheckFolio – A Special Kind of Coupon
In addition to great value and convenience for shoppers, coupons provide retailers an excellent branding opportunity — from a design and messaging standpoint.
With Vericast's CheckFolio®, financial institutions have the same opportunity.
Consider what CheckFolio can provide:
Your Custom message in full color on top of each check pad
6" x 3" message space — more than adequate for a great offer or promotion
Branding that is immediately visible when the check writer opens their CheckFolio
Ability to include ad-codes to encourage use by a specific date (because the life of a CheckFolio may be longer than a specific campaign)
Low cost — the mailing expense is already covered by the shipping cost
No minimum quantities or commitments allows even the smallest institutions to take advantage of this marketing opportunity
More Similarities Between Coupons and CheckFolio
Longevity. Some coupons aren't redeemed for months. In the meantime, they're in plain view on the refrigerator or countertop, providing a constant reminder of the brand. With CheckFolio, the bank or credit union's brand is viewed each time an account holder writes a check. And, with the average check writer writing five checks per month, that's dozens of brand impressions over the life of the check order.
Targeted. Direct mail allows marketers to segment zip codes based on consumer demographics and their own capabilities within the target area. With CheckFolio, financial institutions can customize their messages based on account type. For example, one message can go to account holders with a senior checking account while another message goes to those with a student account.
Take a look at these examples, and tell me you don't see what I see — coupons!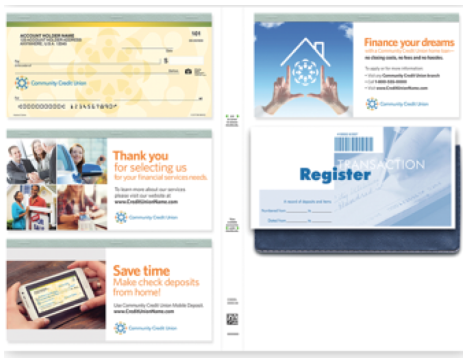 To learn more about reaching account holders with custom messaging and other branding opportunities, visit our check programs webpage.